After a long break due to the pandemic, we can finally resume our visual arts preschool for children aged 0 to 6 years. Free admission as always, but pre-booking is required to avoid crowding.
On Fridays 12th of November (Fully booked), 19th of November (Fully booked) and 26th of November, we welcome a limited number of children and adults, a maximum of 15 persons. Choose between two different time slots via the links below: 12:00-13:30 or 14:30-16:00. Fifteen minutes after the start, your seat may be offered to someone else.
Friday 12/11
Theme: Shadows and movement
(NB! Fully booked)
We look at the artwork Naeem Mohaiemen / Two Meetings and a Funeral. Then we work with shadows and movement in the creative workshop area.
Friday 19/11
Theme: Towers – views and lookouts
(NB! Fully booked)
We look at huts and a high lookout tower in the exhibition Architectures of Transition. Then we build our own towers and huts in the creative workshop area.

Friday 26/11
Theme: Moving, packing and travelling
(NB! Fully booked)
We go on a journey of discovery in the exhibition Bouchra Khalili / Stories within Stories. Then we pack suitcases, draw maps and build TV sets in the creative workshop area.
In the visual arts preschool, children and adults create together. Under the guidance of our art educators, we explore and investigate art and are inspired to play and use our creativity. We start by going on a journey of discovery in the museum to take inspiration from the exhibitions and create our own art in the creative workshop. The activities can be adapted for various ages, including for babies. Materials and themes encourage collaboration between children and adults. Adjacent to the creative workshop, there is space to crawl around, read books, play or take a break. Here we also offer drinks and fruit.

Bildmuseet's ground floor has a cloakroom where you can hang up your outerwear and leave your pram in the lockable pram parking area. On this floor, you will also find the restaurant and café Hansson & Hammar.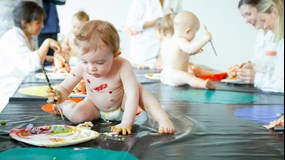 Guided Baby Tour with Painting
Even very young children can experience art. Discover and explore a selection of works of art...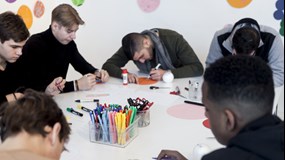 Creative Workshop
In Bildmuseet's Creative Workshop, children, young people and adults can deepen their art experience.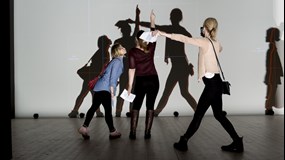 Family Tours
Experience and be inspired by art together with your family. (Language: Swedish)