Baby theatre and painting at Bildmuseet
NEWS Together with Ögonblicksteatern, over the next few weeks Bildmuseet offers babies between 6 to 18 months, in company of a parent, a full experience of theatre and painting. Premiere February 17 at 13:00!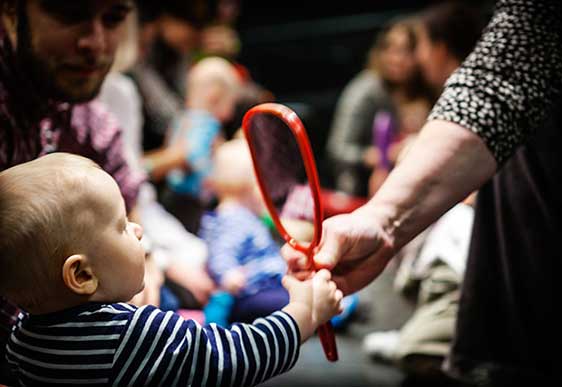 Ögonblicksteatern's spectacle Here I am is inspired by completely new images for the youngest by Stina Wirsén. This is followed by an intrusive investigation of the colour palette when the babies are invited to paint with edible colours guided by Bildmuseet's art educator.
With self-portraits and identity as our themes, the babies explore their immediate world; themselves. Young children experience the world with all senses. Here I am presents the opportunity for an early meeting with art and to be inspired creatively. Cultural experiences are important for the development of the individual and empower the relationship between child and parent.
During the afternoon on 10 February, preparations are in full swing and the set design is built in Bildmuseet's workshop. On site are, Ögonblicksteatern's director Johanna Salander, actors Maria Erickson and Ida Löfholm, production designer Sofia Stattin and costume designer Karin Ågren. Curator Lisa Lundström, responsible for Bildmuseet's educational activities, and artist/arts educator Maria Sundström are also involved.
Welcome between 13:00 and 15:00 for interviews and photography/filming of the ongoing work. Naturally, editors are also welcome to watch any of the already fully booked performances taking place on 17,18,19, 20, 24 and 25 of February. To avoid clashes we ask you to kindly notify press officer Helena Vejbrink what time you plan to show up.
For further information please contact
Lisa Lundström, curator of education, Bildmuseet
090-786 70 12, lisa.lundstrom@bildmuseet.umu.se,
Johanna Salander, director, Ögonblicksteatern090-14 00 14, 0702-32 11 64
johanna@ogonblicksteatern.se
Editor: Helena Vejbrink